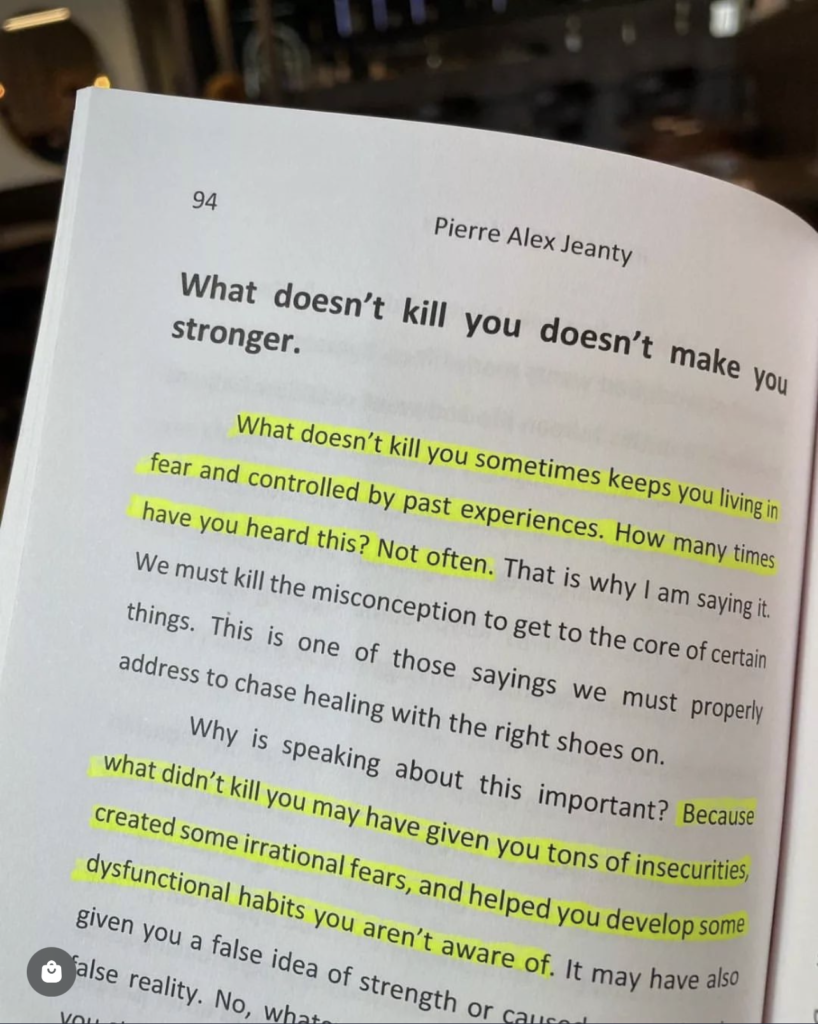 The image above is an excerpt from the book "Really Moving On: Healthy Ways to Let Go and Find Closure".
Are you holding onto harmful beliefs that are stopping you from taking things to the next level? I have totally been there. It happens to the best of us.
It is not your fault. The latest research shows that one in three people in the US, were abused as children. If there are limiting beliefs from your childhood, or an abusive relationship that you entered into later, it is time to take back your freedom & return to being the author of your life story.
What are the three most common, self-sabotaging, misconceptions that I see startup founders plastering to their self-made glass ceilings?
Self advocating is selfish. If you do not set boundaries and make moves to make safety, success and happiness easy for you, it's time to start. Some founders wait until a totally unethical maniacal enemy pushes them to swap their ball point pen for a sword and shield. But I can tell you from personal experience, that this type of battle robs you of many things in the process. [Happy to swap battle stories over a lunch, if we ever cross paths].
Negotiating is rude. Want to know the one question I ask to cut most of my business expenses by 20%? This simple question can lead to hundreds (if not thousands) in annual savings. "Do you have any promotional offers that I might be interested in?" It takes two seconds to ask this question & invites timid sales people to quickly share all of the offers that their marketing team poured days of work into creating. It really is a win-win.
You have to wait your turn. This one is most common among those who went to school in the US. But let's talk about this for a second… no one is going to invite you to get yourself out of bed to workout (unless you paid them to). No one is going to invite you to "take your turn" pursuing the millionaire life (unless you paid them to). No one is going to invite you to pursue your definition of freedom (unless you paid them to). You have to look for the open door and dive in when it opens. If it doesn't open, keep walking until you find an open door and then dive into it.
I've already shared the cure in a previous post, but I'd like to bring it back for those of you who skipped it last time.
Here's your invitation to live the good life:
START HERE
START TODAY
Flood your brain with pep talks
Open YouTube every morning this week & while you're still groggy play "motivational montages" in the background
Download your library's free audio book app (in the US nearly every library has one) then download a few of the books that I will list below. Do not stop flooding your mind with motivational voices until you are ready to get back on the horse.
Motivational books
The power of positive thinking
You are a badass
Big magic
Awaken the giant within
The subtle art of not giving a f*ck
The 4 hour workweek
Tools of titans
Settle for more
Rebel talent
Have a magical day ✨,
Adi Soozin
PS: Share the magic, forward this to a friend.
PPS: If a friend shared this with you, drop in your email below to get the rest of my pep-talks directly to your inbox. No spam. No b.s. Just great pep-talks.